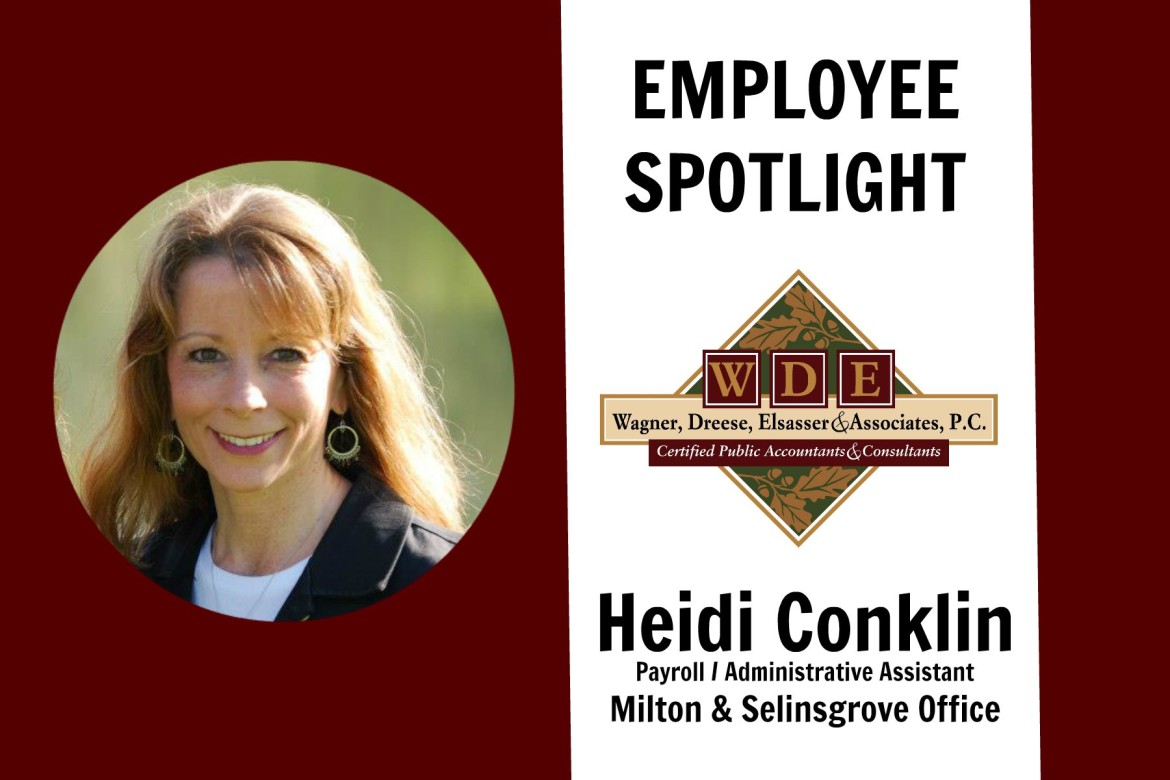 Our  Employee Spotlight section has the pleasure of introducing Heidi Conklin, an administrative assistant/payroll associate at WDEA. While Heidi is primarily located at our Milton office, she may be seen at both our Lewisburg and Selinsgrove offices. A breath of fresh air wherever she goes, Heidi specializes in managing client relationships, supplying encouraging words, and mastering any job given to her. 
What do you specialize in (what is your role) here at WDEA?
"I have had the privilege of working in Lewisburg, Milton & Selinsgrove, learning how each office operates and assisting wherever needed (processing completed tax returns, filing, waiting on clients/answering phone, payroll, etc.).  I have enjoyed working with the wonderful people in each office and learning from their expertise. "
What did you do before WDEA/LBK?
"I worked for my father at Bingaman & Son Lumber right out of high school in accounting/payroll for 6 years.  We then moved to Montana where my husband pastored a church and I worked part-time as a bank teller for about 2 years until I had our first child.  We eventually moved back to PA and I was a stay at home Mom with 3 children.  In 1998, I began working for my uncle at J. Kleinbauer doing their accounting/inventory part-time (I also did a bit of sales work)."
When did you join WDEA/LBK?
"March 2, 2015"
What is one of your greatest accomplishments here at WDEA/LBK?
"Learning payroll and taking Courtney's place in Milton while she was on vacation.  I had big shoes to fill!"
What is your favorite flavor of ice cream?
"Chocolate with almonds…or pretty much anything with chocolate."
Where is your favorite place on earth, and why?
"My parents cottage in Canada on the St Lawrence River.  I get to spend time with my family and  enjoying God's beautiful creation away from daily distractions."
What is a fun fact about yourself?
"I play piano and have played in many churches over the years.  I enjoy time with family and friends, planting flowers, chocolate and McDonald's unsweetened tea.  Last but not least, I love God and being in Bible studies whenever I can."
What is your favorite Christmas gift that you have ever received and why?
"Last Christmas I received large framed pictures to hang of each of my kids from their senior pictures.  Loved it!"
If you were on death row, what would your last meal be?
"Any of the meals we have for Sunday dinner at my parent's house.  I have amazing cooks in my family so every Sunday is like a holiday with the spread of food. The best part, however, is being together… the food is just an extra benefit!"
Are you in need of friendly and professional payroll assistance?  Perhaps you want to find out how to get an invitation to one of these "Sunday Dinners?!" Contact Heidi by email at hconklin@wdeapc.com or call the Milton office at 570.742.2613.