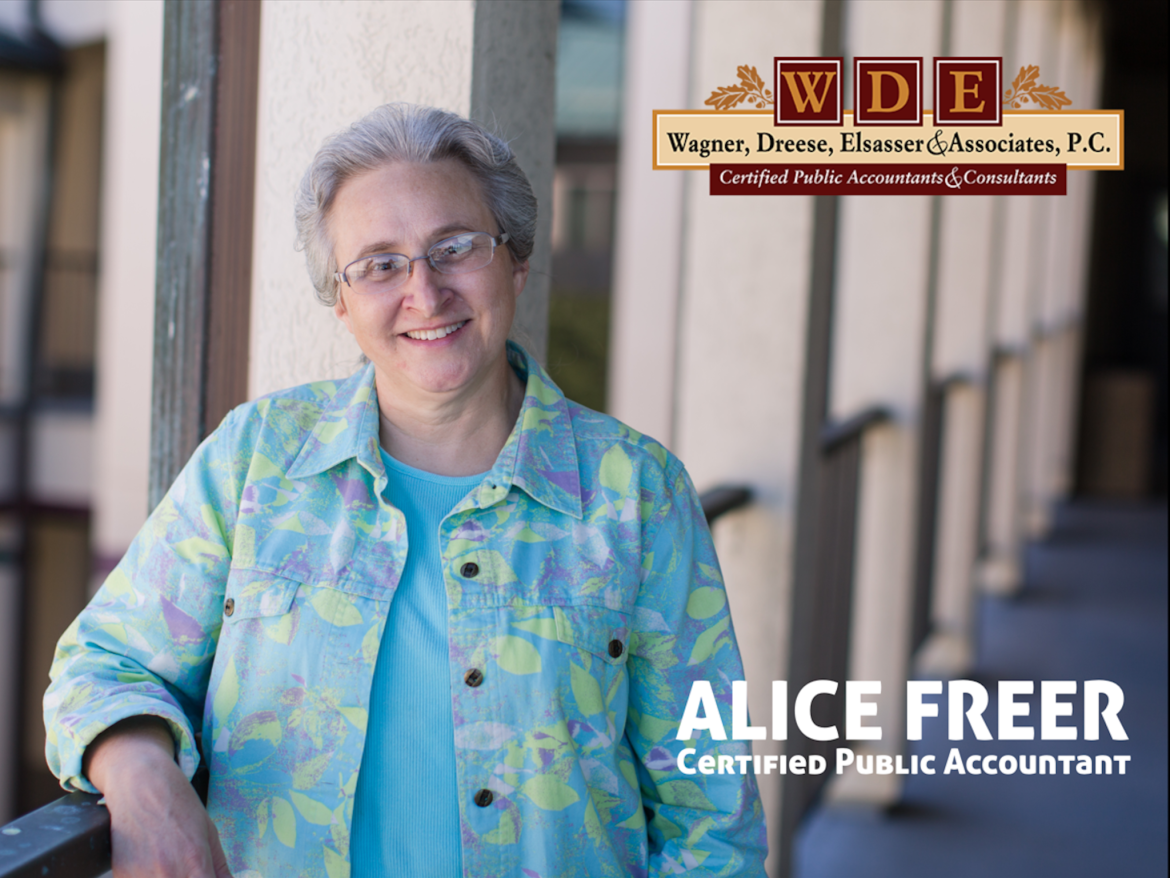 Our  Employee Spotlight section has the pleasure of introducing Alice Freer, a CPA at WDEA's Selinsgrove office. Alice joined the WDEA family when we merged with KM&R Accounting in November of 2015.
What do you specialize in (what is your role) here at WDEA?
"My primary role at KMR has been tax planning and compliance for individuals, corporations, partnerships and non-profit organizations.  However, I have also been involved in compilations and reviews for various clients."
What did you do before WDEA?
"I began working in the accounting field while in college at Mosbacher Production Company in Houston, Texas.  Upon graduation, I went to work for Price Waterhouse in Houston in their tax department, and then went to the tax department in the real estate division of Mitchell Energy & Development Corp.  After the birth of my daughter, I went back into public accounting to work part-time with Kathryn P. Peltier P.C.  In 2004, I moved to Pennsylvania to be the Director of Finance at Penn View Bible Institute & Christian Academy and enroll my children in the Academy.  In 2012, I joined KM&R, LLC."
What is one of your greatest accomplishments here at WDEA?
"From a technological perspective, after going back in time while working at the nonprofit organization, I was able to become proficient with a paperless accounting office upon joining KMR to continue the tax consultation that I had many years of experience in as well as add the compilation and review services.  I have developed rewarding relationships with coworkers and clients in the process of providing the accounting services."
What is your education experience?
"I have a bachelor's degree in accounting and mathematics from Houston Baptist University."
What is your favorite flavor of ice cream?
"Chocolate!"
Where is your favorite place on earth, and why?
"Home is where my heart is.  I love to travel and visit other places, but I love to go home to my house with my family."
What is a fun fact about yourself?
"I love to share a good laugh and have been told that I have one of those unique, very quickly recognizable, laughs."
If you were exiled to a desert island and could only bring three things, what would they be?
"Coffee, chocolate and my Bible."
Have you ever sighted a celebrity? If so when…and where?
"While living in Houston, Texas, I was an active member in the Houston Chapter of the Texas Society of CPAs.  The chapter had an annual fundraising dinner with a notable speaker.  I attended dinners where Dr. James "Red" Duke and George H. Bush were the speakers.  I was privileged to be the "doorkeeper" for the pre-dinner meet and greet room to allow only secret service pre-approved individuals into the room to greet and be photographed with Barbara Bush the year she was the guest speaker.  I have a photo of myself with her as a prized memento."
Are you in need of a tax/accounting professional for your business or personal affairs?  Perhaps you would like to know what Barbara Bush is like in person? Contact Alice by email at afreer@wdeapc.com or call the Selinsgrove office at 570.743.2030.