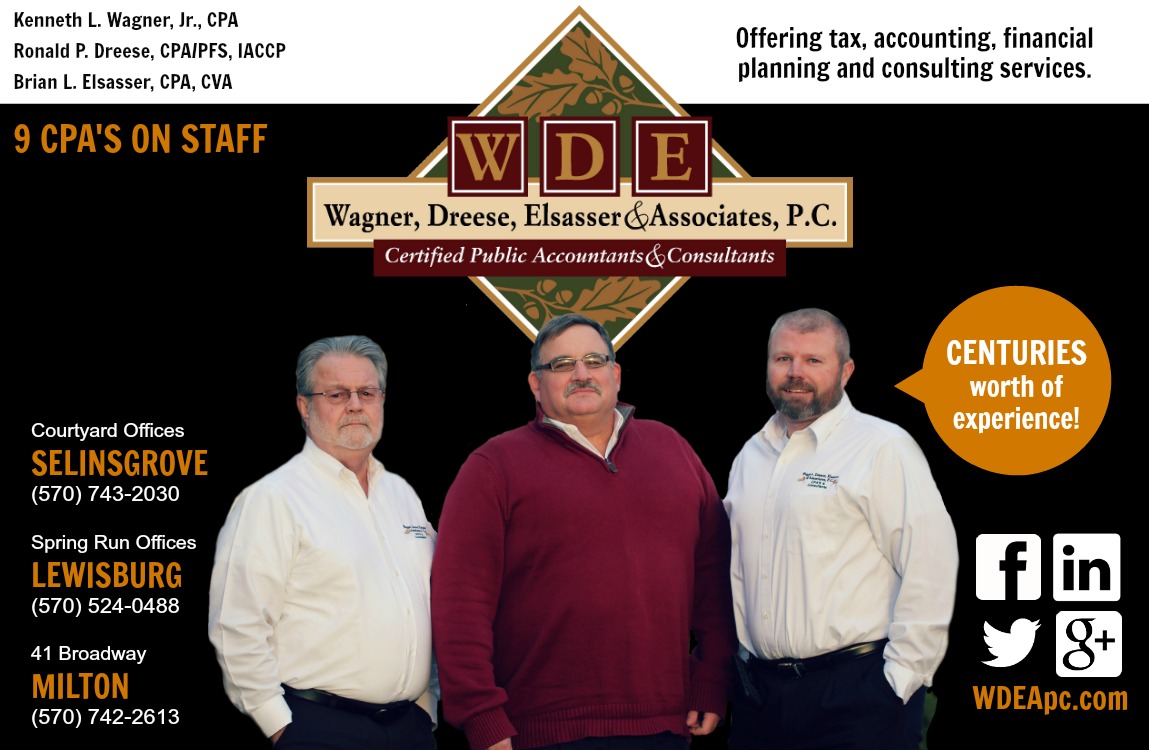 Selinsgrove Accountant
Wagner, Dreese, Elsasser, & Associates, P.C.
If you are looking for skilled help in tax, accounting, payroll, and bookkeeping services, you have come to the right place.

Wagner, Dreese, Elsasser, P.C. is a professional and highly skilled Selinsgrove accountant who works with an experienced team to provide a wide range of business and personal yearly tax and accounting services to individuals and businesses in the Lewisburg, Mifflinburg, Selinsgrove and Bloomsburg areas.
WDEA's professional Selinsgrove accountant services include:
Payroll Services and Quarterly tax filings
Business and Individual Tax Services
Tax Consulting and Planning Services
Business Start-up Consulting
Bookkeeping Services
Certified QuickBooks Proadvisor Consulting
When it comes to filing your annual taxes as an individual or business, working with an experienced Selinsgrove accountant takes away much of the stress from the process. The team at Wagner, Dreese, Elsasser, P.C. offer timely filing, in-person consultations and centuries of CPA experience.
How to Choose a Skilled Selinsgrove Accountant
Many people do not realize how much they need the advice of a professional come tax time. If you have unanswered questions or any confusion regarding your tax return, working with a dependable Selinsgrove CPA will set you in the right direction.
As an individual or business filing annual taxes, it never pays to wait until the the filing deadline to determine your tax strategy. The key to your success in minimizing your taxes is planning and preparation, which may even save you money by helping you to find any deductions you may have overlooked in the previous years!
"Quick" QuickBooks Help
An expert Selinsgrove accountant will also help you to swiftly file your business taxes or even solve any issues related to QuickBooks. Many businesses use QuickBooks for their accounting software,  WDEA, P.C. is a leading  QuickBooks advisor. The staff at WDEA will work with you to help determine what makes the most sense for your schedule and workload. WDEA offers one-on-one Quickbook consultations, remote sessions and in-office training.
Affordable Selinsgrove CPA Support
Instead of spending hours reading tax and accounting materials online, you can use the affordable Selinsgrove accounting services of Wagner, Dreese, Elsasser, P.C. to file your taxes or manage your business financials in a fraction of the time.
The WDEA, P.C. team offers the convenience of skilled accounting support:
At client site
In office; or
Remotely
It is understandable that you as an individual or business owner are quite busy in your day-to-day schedule, and the odds are that you don't have the time to come in for an appointment. That's no longer an issue since WDEA, P.C. provides a wide range of services to meet your individual needs with quick and accurate accounting advice and support.
The WDEA, P.C.'s expert Selinsgrove accounting team takes pride in offering all clients the most up-to-date tools and tips to ensure that you can continue to manage your business financials successfully on your own.
We look forward to your success. Contact us today at our Selinsgrove office by calling (570) 743-2030. Don't forget to find us on Facebook, Twitter and LinkedIn.