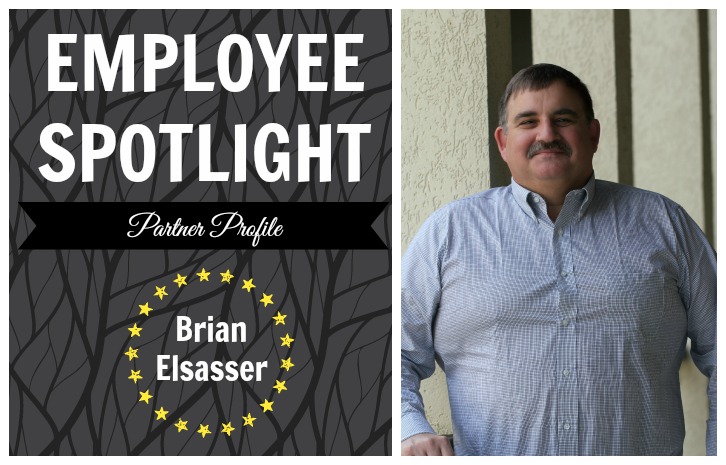 Our Spotlight on Employee Section has the pleasure of introducing Brian Elsasser a CPA, CVA (and founding principal of WDEA) in our Selinsgrove office. Our partner profiles are a bit more in depth, including several more challenging questions as well as quirky tidbits of fun information about our spotlight partner. Enjoy!
Brian's Role at WDEA:
-BUSINESSES & INDIVIDUALS: Brian manages business client relationships in a variety of mediums. He prefers to establish relationships by truly getting to know the clients in order to appropriately understand their visions, issues and strategies. Brian has the ability to manage a multitude of service industries, but is particularly interested (and talented) in the farming, manufacturing and the restaurant arenas.
-START-UP CONSULTING: Brian has a knack for entrepreneurship, having started his own individual practice and merging with Ken Wagner and Ronald Dreese in 2012. Brian is able to help develop business plans, consult on start-up costs, and develop strategy and yearly planning when necessary.
-TAX AND FUTURE PLANNING: Brian, as with many CPAs, also concentrates on taxation, working with all entities to maximize tax savings and tax planning. Brian is known for reformulating client's tax strategy and looking at a return with many different "hats." Brian is extremely excited for tax season this year and is even contemplating how he can fit a shower, his bed, and Mia (his dog) into his office from February until April.
WDEA Tenure:
Brian has been with WDEA since its inception in 2012 and remembers many late evenings spent with Ken discussing the possibilities of starting a firm together.
Where Were You Before WDEA?
Brian started his career in the public sector of accounting alongside his step-father, Ronald Dreese (also a partner in the firm). In the early 2000s, Brian took a position in private accounting as a CFO for a large lumber company. He has dabbled in teaching as an adjunct at Lycoming University and sits (and has sat) on many community organization & business specific boards.
His Greatest WDEA Accomplishment:
Brian feels incredibly blessed to be a part of WDEA and feels that every day is a blessing. Having no plans of retirement, Brian is looking forward to continued growth and relationship building with staff and clients alike.
Why Should I Hire You (Client Perspective) As My Accountant (In 10 Words)?
Focused on relationships with our clients to provide professional and knowledgeable solutions
Education Experience?
-Middleburg High School Graduate (Now Midd-West)
-Bachelor's in Accounting from Shippensburg University
Favorite Christmas Gift of All Time?
Having his whole family home for Christmas
Favorite Movie?
Cool Runnings
If You Were A Cereal?
Lucky Charms. Brian feels he has the steadiness of the grain with a touch of sweetness from the marshmallows (haha!)
Favorite Food?
Ice cream & Middleswarth potato chips (Said like a true central PA native!)
Fun Fact(s)?
Brian MOST enjoys coaching the Junior High and Varsity girls soccer team at Meadowbrook Christian School
If Brian received a tax refund of $1,000 (and had to spend it on himself) he would spend it on….?
$1,000 worth of soccer equipment and donate it to Meadowbrook Christian School.
If you are interested in setting up a meeting with Brian (or wish to join him for a game of pick-up soccer or a Cool Runnings viewing party), email belsasser@wdeapc.com or call the Selinsgrove office at 570-743-2030