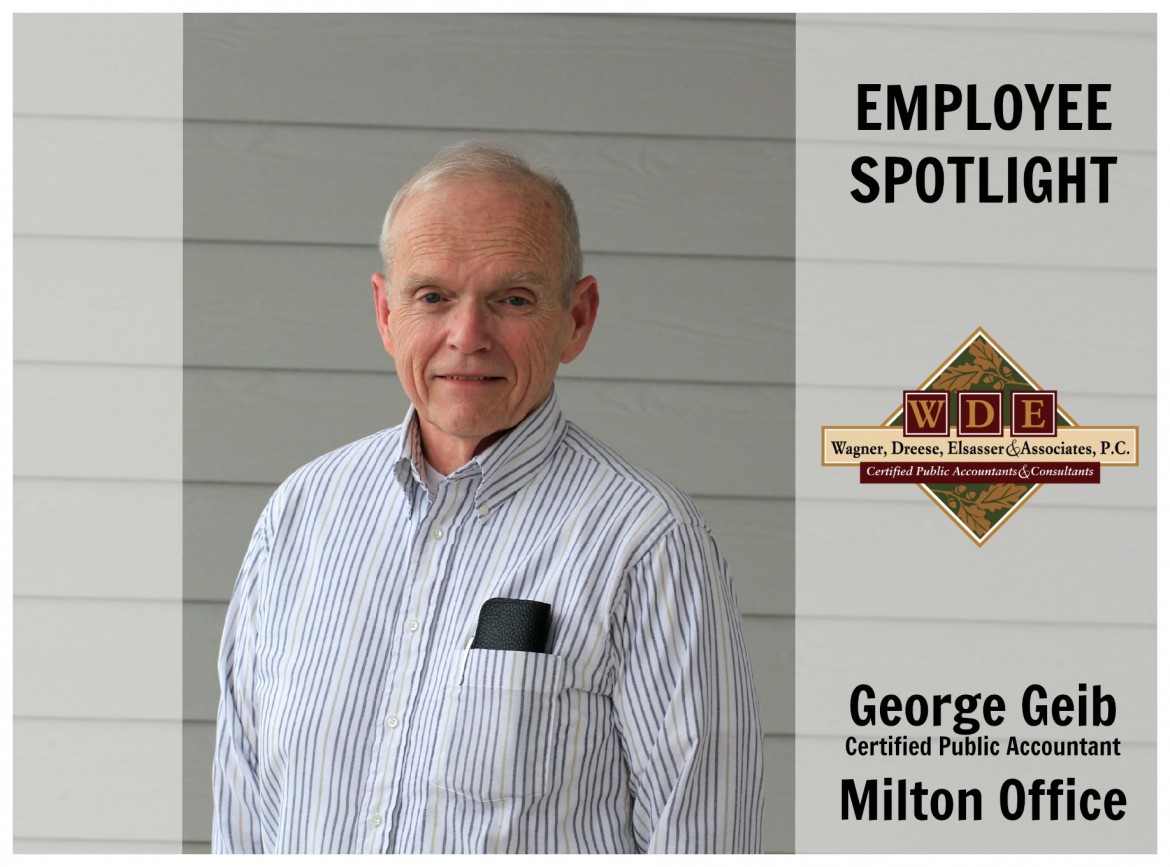 Our monthly Employee Spotlight section has the pleasure of introducing George Geib, a CPA at WDEA (located at our Milton office).
What do you specialize in (what is your role) here at WDEA?
"I have tried to be the best at serving the community in the areas of individual tax, small business, and nonprofits."
What did you do before WDEA/LBK?
"I was a sole practitioner for twenty-five years with an office in Milton.  Prior to that I was the CEO at Muncy Valley Hospital and was instrumental in merging the Hospital into a larger system which saved it from extinction."
When did you join WDEA/LBK?
"I joined WDEA in December 2014 (As part of a merger with my accounting practice)."
What is one of your greatest accomplishments here at WDEA/LBK?
"Changing my habits and attitudes from a self-employed person to one of a supportive team player in a larger organization."
What is your education experience?
"I graduated from The Pennsylvania State University with a Bachelor of Science degree in Accounting."
What is your favorite flavor of ice cream?
"Peanut Butter"
Where is your favorite place on earth, and why?
"Salzburg, Austria, the birth place of Mozart."
What is a fun fact(s) about yourself?
"God has blessed me with musical talent.  I have shared this talent with His people over the past thirty-five years playing the organ at my church.  For me the experience is fun, relaxing and very uplifting.  It is wonderful to praise God with music."
What is your favorite Christmas gift that you have ever received and why?
"My very first Lionel train, it was a bright blue Seaboard Coast Line switcher.  My father enjoyed model trains and annually setup a large train platform in the basement. It was fun to operate the display in darkness as the trains moved through the towns and countryside we had built together.  It provided me an opportunity for time with my father.
Where would you go in a time machine?
"I am a pessimist when it comes to the future.  Therefore, I do not want to go into the future.  It has been said that my generation has lived through the best of times.  I have learned over the years that the second time around isn't nearly as exciting as the first time.  Therefore, I don't want to go back into my life.  I have no desire to go further back into history.  Therefore, the answer is nowhere."
Are you in need of friendly and professional accounting assistance? Do hospital mergers peak your interest? Perhaps you are fascinated by model trains?  If any of these describe you, contact George by email at ggeib@wdeapc.com or call the Milton office at 570.742.2613.