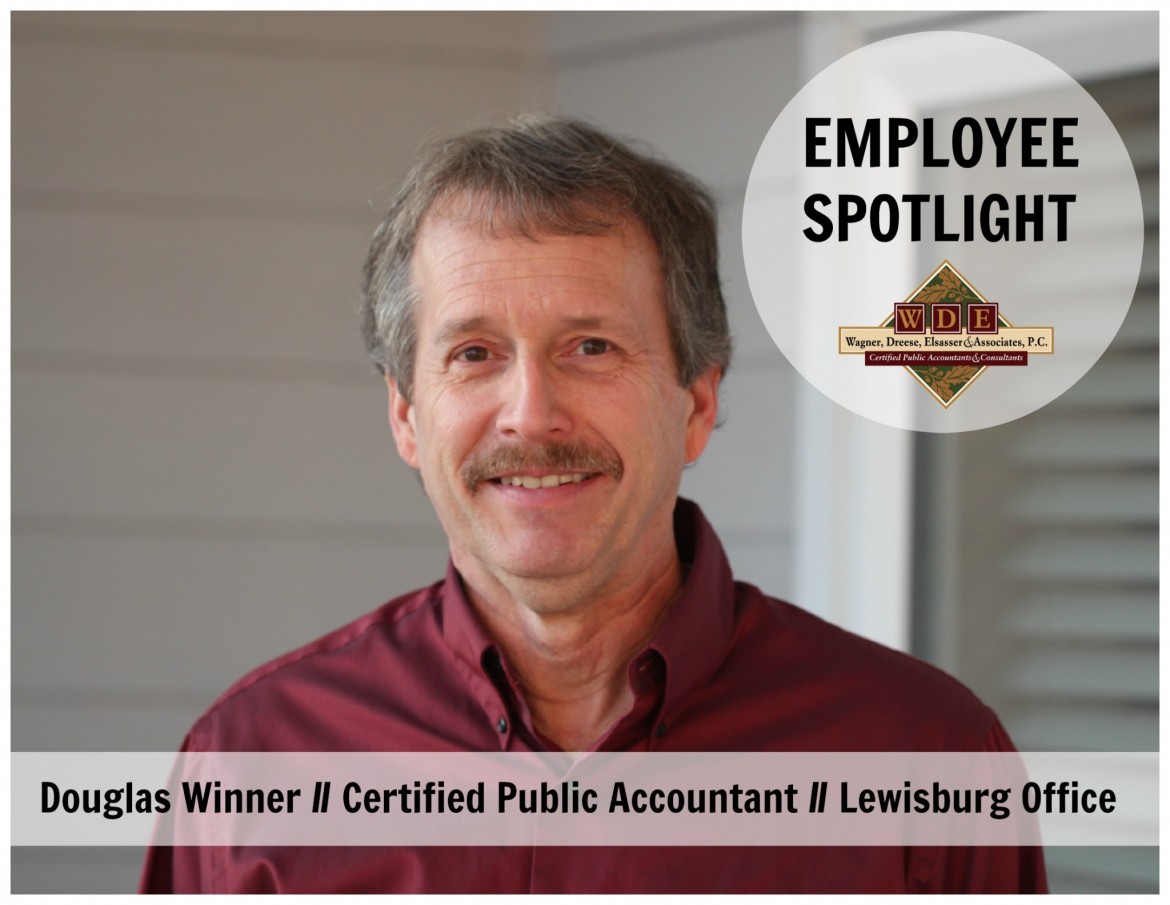 Our weekly Employee Spotlight section has the pleasure of introducing Doug Winner, a CPA at WDEA (located at our Lewisburg office).
What do you specialize in (what is your role) here at WDEA?
"I feel my role is to help clients. In doing that, I find myself running in a lot of different directions. My primary focuses are individual, trusts, and corporate taxes (1040, 1041, 1120, 1120S, 1065). I occasionally do compilations, reviews and 990s.  Since ENRON and having not done any auditing for a while, I prefer to not to audits."
What did you do before WDEA/LBK?
"I started in public accounting in 1978 and became a tax manager/internal audit director at a large NYSE corporation in 1984. In 1993, I became a controller/tax manager/international assistant treasurer for a foreign-owned corporation. I took the plunge and opened my own public accounting practice in 2004 (which merged with Lewis Barlett Klees in 2011)."
When did you join WDEA/LBK?
"I joined WDEA in November 2014 (As part of the merger with Lewis Barlett Klees)."
What is one of your greatest accomplishments here at WDEA/LBK?
"Re-assembling my desk in the office and (annually) getting to April 16."
What is your education experience?
"BS-Accounting, Susquehanna University"
What is your favorite flavor of ice cream?
"Boring … always vanilla. Chocolate and caramel toppings are preferred. My wife and kids have always harassed me."
Where is your favorite place on earth, and why?
"Anyplace with my kids (previously also my wife); Preferably with water nearby, fresh air, and no technology."
What is a fun fact(s) about yourself?
"Things you might not know: (personally) I play the piano and pipe organ. (professionally) I've been qualified as an expert in accounting in both Pennsylvania and Federal courts. I've done some litigation support, but don't think I'll do any more! [There's no such thing as an "expert" in accounting]."
If you were stranded on a desert island and could only bring 3 things, what would they be and why?
"No idea. If you're stranded, not sure it would matter!"
What is your favorite Christmas gift that you have ever received and why?
"Anything made by my kids."
If you received a tax refund of $1,000 (and had to spend it on yourself) how would you spend it? (No bills!)
"I couldn't do it! While money is necessary in life, it has little meaning otherwise. I don't have materialistic desires and my only interest is to be sure my kids have what they need and get a good start on their lives. They've been through so much, I don't want them to start out with financial concerns."
If you were on death row, what would your last meal be?
"Real pizza or an Italian sub. Since being on a gluten free diet, those are things I miss the most. GF breads just don't cut it."
Have you have sighted a celebrity? If so who and where?
"When taking our daughter to a doctor in NYC, we passed Geraldo Rivera (a regular on the Fox News Channel) exiting an elevator that we were going into. Not a fan. Wasn't excited. He's really short!"
Are you in need of "certified expert" accounting assistance? Do courts and litigation peak your interest? Perhaps you are an individual looking for a dedicated accountant (who delights in his clients satisfaction and well-being)?  If any of these describe you, contact Doug by email at dwinner@wdeapc.com or call the Lewisburg office at 570.524.0488.