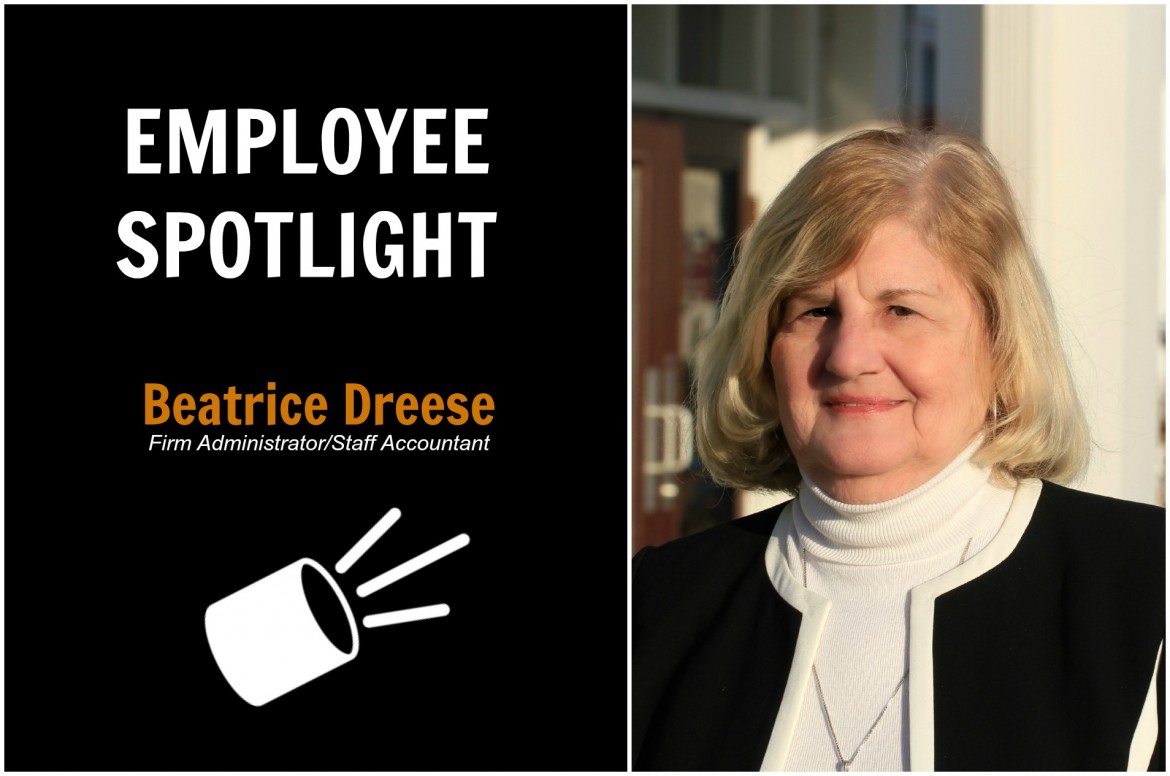 Our weekly Employee Spotlight section has the pleasure of introducing our resident firm administrator and garden & butterfly enthusiast, Beatrice Dreese.
What do you specialize in (what is your role) here at WDEA?
"I specialize in Client Write-Up, tax preparation and practice administration. Brian (One of the partners of the firm) will also tell you that I specialize in client "shoe-box" accounting."
What did you do before WDEA/LBK?
"I've been doing the same thing for quite a while (just at different firms)! I have been working with my husband since the inception of his accounting practice and his wealth management firm, Asset Management Strategies."
When did you join WDEA/LBK?
"Since it's inception in July 2012."
What is one of your greatest accomplishments here at WDEA/LBK?
"Working with my husband and son! Also, I love meeting and making new friends with clients and trying to solve any issues that they may have with their business, etc."
What is your education experience?
"I graduated from Middleburg (now Mid-West) high school and attended Susquehanna University."
What is your favorite flavor of ice cream?
"Coconut Chocolate Almond Joy"
Where is your favorite place on earth, and why?
"I have two, Saint Michaels (Maryland) and Cape May (New Jersey). We enjoyed several summers in Saint Michaels and loved the area. It is so quiet and relaxing. We had great neighbors that became wonderful friends and made so many wonderful acquaintances. At one time, we had a summer home in Cape May (which we sold because of all the beach-produced maintenance required!). Our children loved the beach and we have many happy memories with family there. Our grandson even worked several summers there as a beach tag inspector and an intern at the Nature Center."
What is a fun fact(s) about yourself? 
"While I wouldn't necessarily call this "fun," it is not advised to get between me and my grandkids! They are the loves of my life. I also enjoy sitting by the pool with my family, relaxing and making good memories. Last by not least, I love "playing" in the ground in my flower beds, making them bird & butterfly friendly (Bea has BEAUTIFUL flower beds!)."
What is your favorite Christmas gift that you have ever received and why?
"The biggest surprise was when my husband have me a Teddy Bear for Christmas many years ago. When I looked a bit closer, it had a beautiful antique ring attached to the bear's dress. What a surprise!"
If you received a tax refund of $1,000 (and had to spend it on yourself) how would you spend it? (No bills!)
"I would buy a beautiful piece of jewelry and pass it down (eventually) to one of my grandchildren."
Have you have sighted a celebrity? If so who and where?
"My husband and I were in Nashville a number of years ago at a financial conference. While Ron was taking an exam, I decided to take the elevator downstairs to enjoy a bit of breakfast. There was a man who looked awfully familiar in the elevator standing next to me. Lo and behold it was Mr. Rod Stewart! The gal that drove the shuttle to the airport the next day verified that he was in town."
You can reach Bea Dreese by contacting the Lewisburg office (or emailing her directly at bdreese@wdeapc.com).